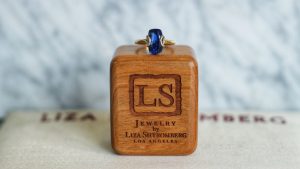 Ready to pop the question? It's time to customize an engagement ring to show your love. And we're here to help! After decades of working in Los Feliz, Los Angeles there is one thing we have learned in the sunny city of diversity. Every individual has their own unique style. Most importantly, every couple has their own unique story. And we're here to help cultivate that uniqueness through the art of jewelry and the bond of love. We love love and we love to meet couples from all over the world whom each carry a story of sweetness and adventure of how their loved one became their partner for a lifetime. We also love to hear our clients approach us looking for a special ring that looks like no other. Stray away from the traditional diamond engagement ring and learn more about designs that incorporate sapphires, rubies, eccentric bands, and more!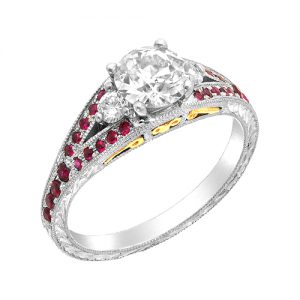 Guide to Engagement Rings:
Find your partner's ring size. If you don't know your partner's ring size, have no fear! Let us know in advance and we can help you find out!
Timing is Everything! Give yourself a reasonable deadline before you get down on one knee. Creating an engagement ring will take time with design trial-and-error before you settle on a ring design that you truly love. Although we are happy to make adjustments to jewelry we want to make sure that your ring is perfect before the big moment!
Set a budget. And know that you may possibly go out of your range. Long ago, it was believed that a ring should cost three months of salary due to the men going off to war and leaving their wives behind. However, in this day and age, a budget should be determined based on your comfort and the quality of your ring.
Choose a diamond. Or a gemstone. Or both! The main showstopper is of course entirely important. Whether you want to add a halo, pave, or side-stone, it's all entirely up to you. But you definitely want to settle down on the main gem – a diamond or colored stone.
Choose a setting. Rings can come as a simple solitaire or pave with diamonds. At LSJ, we present to you all of your setting options that will coincide with your partner's preferences and personality.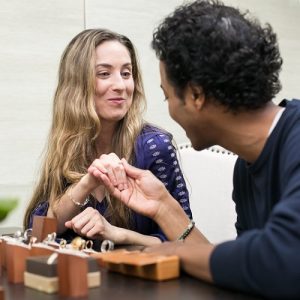 Do you have heirloom jewelry or heirloom diamonds you'd like to incorporate into an engagement ring? Or a design in mind that you haven't seen anywhere else? Schedule an appointment with us to chat about how we can make your ring dream a reality!
If you're seeking something unconventional but unsure where to start we're here to help design a custom ring specially made for you.
Have a friend or family member looking to pop the question soon? Send them our way to start their process today!
E-mail us at lsjewelrycustomers@gmail.com with your ideas and photos of inspiration or call us at 323-913-1444 to book an appointment!