Dreaming of a destination wedding on a Grecian Isle?
Let your dreams be graced by the romantic crystal clear the Aegean Sea, bright red sunsets, and streets that wind through whitewashed buildings.  Feel the warmth of the sun, earth, magnificent food, and joyous people amplified by your love.  The grounded support of history is beneath your feet as you take your step into the future.
A blessing to be able to have your wedding in Greece, you and your guests will remember these moments for the rest of your lives.  If this dream can't burst into your reality, why not bring a little Greece to your day wherever you may be on the map?
Liza Shtromberg designed the Destination Greece jewelry collection based on an imprint she took of Phaistos Disc, a disk of clay about 4,000 years old from Crete, with visually intriguing Minoan text.  The Mediterranean coastal palate of land, sky, and sea is present in each piece; truly complementary to the Grecian Isles.
In Greek tradition, a gold band is worn on the left hand of both partners upon engagement.  This band is usually inscribed with initials or names, and the engagement or wedding date.  After marriage, the rings are moved to the right hand.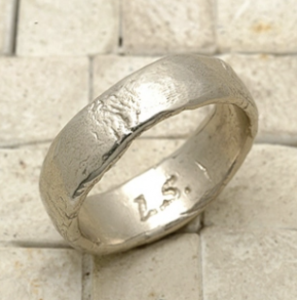 A Greek wedding ceremony is composed of many traditions- here are a few examples to consider adding to your own "Greek" ceremony:
– Holding candles together to represent the light in your new life together.
– "The Joining of Hands"; holding hands throughout the ceremony to represent that you are joined as one.
– Being crowned with wreaths tied with ribbons that link your partner to yourself; representing the joining of two souls, as well as honoring that you'll be the rulers of your new kingdom in your life together.  Traditionally the wreaths are swapped back and forth 3 times in the ceremony.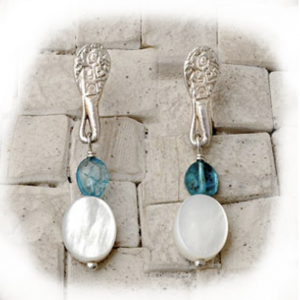 Follow @lizashtrombergjewelry on Instagram!