Further personalize your destination wedding with location complimentary jewelry.  Liza Shtromberg Jewelry Studio, in Los Feliz, CA, will help you to choose from her signature styles, or design customized pieces for your big day.
Looking out toward the horizon, the sunrise illuminates the secluded white sandy cove and reflects off of the brilliant turquoise water.  The exotic scent of this morning's fresh fruit- pineapple, guava, papaya, mango, and banana- fills your senses with bliss, as you watch the waves crash onto ancient lava rocks.  You smile at the sight of wild doves circling above, for this is exactly what you had dreamed for your wedding day.  Hawaii's enchantment parallels that of your love, and you want to make this visually apparent in your ceremony.
Aloha literally translates to "the breath of life", and is an expression of unconditional affection that acknowledges the importance and appreciation of another person's existence.  It is a word to recognize what can not be heard, what can not be seen, and the knowledge of what can not be known; the true essence of love.
The vibrant and fragrant flowers of Hawai'i have always been a symbol of Aloha.  Shower yourself and your bridal party in Aloha with jewelry from Liza Shtromberg's Flowers Collection.
Walking towards your future, beaded multi-chained earrings adorned with mother of pearl carved flowers and cubic zirconia droplets frame your radiant face.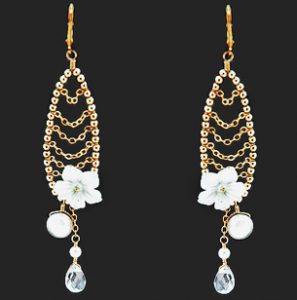 If you prefer to display your neck, consider this pearl choker with a carved amazonite flower.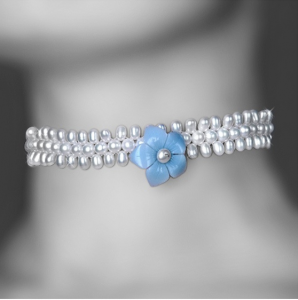 Another memorable token of your ceremony on the island is this beautifully carved serpentine and amazonite floral ring with a rose quartz stone all set in sterling silver.  Looking down at your ring, you will never forget the true meaning of Aloha and your incredible experience in Hawai'i.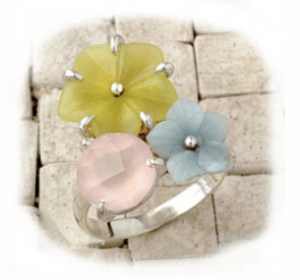 Imagine a gentle flower carved of mother of pearl hanging from your mother's neck as she proudly bears witness to the Lokahi (unity, to be expressed with harmony) before her.  This necklace would also make a wonderful gift to those important loved ones who put so much into making your day absolutely perfect.  This is a wedding they will never forget.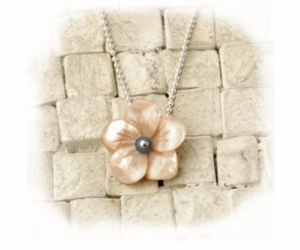 You will be sure to find the perfect wedding jewelry for your ceremony in the vast collection at Liza Shtromberg Jewelry.  Stop by our store located at 1953 Hillhurst Ave, Los Angeles, CA 90027 open from 11AM – 5PM every day, except Saturdays. Or call us at (323) 913 1444 to learn more about your bridal and custom jewelry design options!