March is a month of past endings and new beginnings when we say goodbye to Winter and hello to Spring. It's a wonder that Aquamarine is March's birthstone with its vibrant and sparkling hues of bright blue. The bright color reminds us of clear, blue skies and blooming flowers.
But enough about relishing in the Spring season, let's talk about the birthstone of the month! 
Even better, let's go back in time to ancient lore when Aquamarine was called the "Mermaid Stone". Sea merchants would carry Aquamarine for protection from drowning, it was a sacred stone to Neptune, and the Greeks believed Aquamarine led them to success to their destination across the waters.

Fast forward to modern times, the sparkling stone carries all sorts of healing vibrations for the human body. If you're one to feel overwhelmed by many tasks or responsibilities then wearing Aquamarine may help soothe your soul. The crystal clear element of the stone allows one to reflect on their life without the surmounting pressure of emotions. The light blue relaxes one's soul with soothing energy and calming vibes.
March babies can benefit the most from Aquamarine stones. Here at LSJ, we always say one of the best ways to benefit from any stone is by wearing it as jewelry due to the skin contact. 
Energies and ancient lore aside – Aquamarine is a beautiful stone to wear with your transitional outfits from Winter to Spring. Whether you hold the ocean close to your heart or adore vibrant blues, we can assure you that an aquamarine pendant or ring will add shine to your already beautiful soul.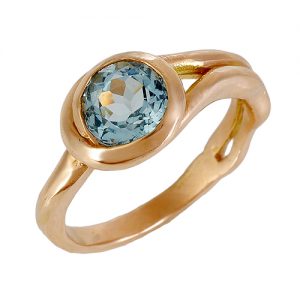 Take a look at our Delight collection where you can customize a Dream of Paradise ring or Eyes Upon the Sun ring with a beautiful Aquamarine stone.
E-mail us at LSJewelryCustomers@gmail.com
Call or text us at 323-913-1444
Visit us at 1953 Hillhurst Avenue
Like our Facebook Page
and Follow our Instagram!