Valentine's Day is here soon and we know you're eyeing something special for your sweetie! We have a whole selection for gifts for her and we're so excited to share them with you!
Finding a gift for your nearest and dearest can be difficult because we know you want it to be special. Chocolate boxes and red roses are great basics but we know you need to spark it up with some shine! From engagement rings to heart-shaped gold necklaces there are so many options to choose from. So we're here to help! Reach out to us for some personal shopping or visit us in-store to check out our diamond jewelry, including our Different Shapes collection!
We're also offering a 10% off discount from now until February 14th!
Even better…we're inviting you to a special event!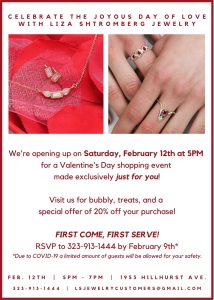 RSVP to our Valentine's Day event on February 12th from 5PM – 7PM by texting us at 323-913-1444. We'll be offering some lovely treats, bubbly, and of course, a special 20% off offer!** Our LSJ Specialists will be there to help you shop for the perfect gift of love!
E-mail us at LSJewelryCustomers@gmail.com
Call or text us at 323-913-1444
Visit us at 1953 Hillhurst Avenue
Like our Facebook Page
and Follow our Instagram!
**Offer cannot be combined with the general 10% off Valentine's Day discount. Offer also cannot be used for custom-made jewelry.