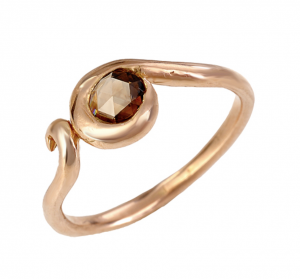 Perfect for those who are looking for an engagement or wedding ring with an ethereal and delicate look, rose gold engagement and wedding rings are an ideal choice because they give the impression of the freshness and radiance of a rose in full bloom.
A colorful combination of reddish copper and 24k yellow gold, rose gold with its sun-kissed glow maintains a delicate balance between the metals of white gold and yellow gold.  Also known as "pink gold," this blush-hued metal gives an aura of warmth and richness to any rose gold engagement or wedding ring as if the ruddy metal hides a hot flame.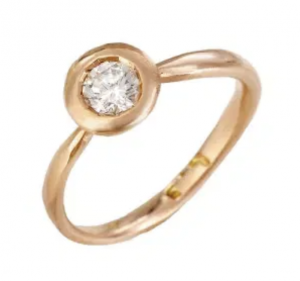 Already unique for its striking look rose gold has gained a reputation for being an exotic metal.  Its rarity is due to the fact that there is simply less of it being made.  A versatile metal rose gold is perfect for all types of skin tones since its warm color blends in with almost anything.
The rich, natural hue of rose gold provides the perfect color for our beautiful champagne and chocolate diamond rose gold wedding and engagement rings where the earth tones of the diamonds blend with the delicate flush of the rose gold to create a harmony of colors.  However, nothing can compare to the brilliance of an icy white diamond set in fiery rose gold.  At Liza Shtromberg we have a variety of loose colored diamonds and white diamonds from rose cut chocolate diamonds to brilliant cut white diamonds to rare heart-shaped pink diamonds so that you can create your own hand-crafted custom rose gold wedding and engagement ring or choose from an assortment of styles.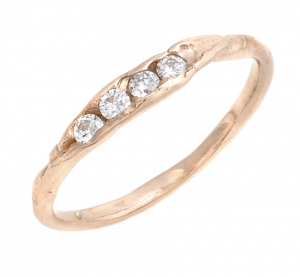 Follow @lizashtrombergjewelry on Instagram!