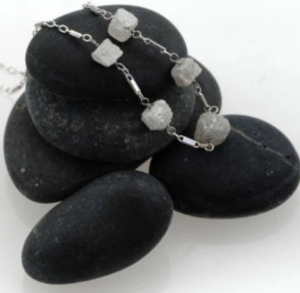 When we think of diamonds, what immediately comes to mind are the meticulously polished, highly cut diamonds of the diamond industry, but rarely do we think of the natural, raw diamonds from which these more traditional, refined versions are created.  Unlike cut diamonds, rough diamonds have not been faceted, polished, or altered but left as nature made them—raw and untouched crystals of singular beauty.  Raw diamonds in their natural rough, unpolished form manifest an intrinsic beauty and natural elegance which lend an air of timeless sophistication to our own rough diamond jewelry pieces.  To give you a better introduction to our uncut diamond jewelry here are a few facts on the history of these fascinating gemstones:
Created by geological processes deep within the interior of the earth's mantel, diamonds are born from carbon and are one of the oldest minerals having being formed over billions of years.
Over 1,000 years ago in the 4th century BC, rough diamonds were first prized as precious gemstones in Central India. Ancient Hindus described diamonds as vajra or "thunderbolt" and valued them for their rough quality, leaving diamonds uncut since they prized them for their natural beauty.
From 800 BC until 1375 AD when jewelers began the practice of faceting and cutting diamonds; kings, queens, and emperors wore rough diamonds and treasured them as precious gemstones.
Although the process of cutting and faceting a diamond reduces its carat weight by as much as 50%, a rough diamond is not altered in any way and thus loses none of its size or its brilliance.
Temperature, pressure, and the earth's shifting layers can all radically change the formation of a diamond, making it impossible for any two rough diamonds to be alike.  Each raw diamond is a one-of-a-kind stone, having its own unique shape and texture quite unlike the uniformity of cut diamonds.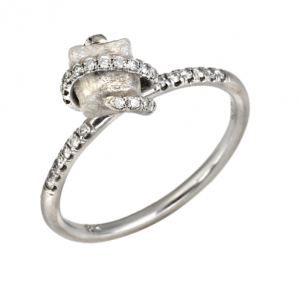 Inspired by nature's raw beauty and designed with Liza Shtromberg's signature organic look, our rough diamond jewelry is lovingly made in recognition of the inherent beauty of raw, untouched diamonds. Our white gold rough diamond ring showcases an elegant twist of tiny micro pavé diamonds which have been hand-set under a microscope by a highly skilled diamond setter.  These micro pave diamonds entwine a rare cube-shaped rough diamond that shimmers as if hiding an inner fire.  Over thousands of years, rough diamonds have become associated with faithfulness, longevity, healing, and relationships filled with love.  Declare your own unique love with a one-of-a-kind rough, uncut diamond ring.