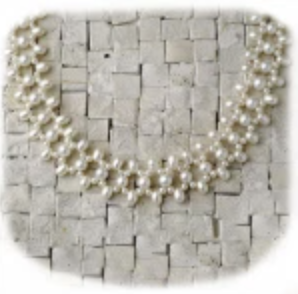 Shimmering luminously with a soft inner glow, a strand of iridescent white pearls or even a single pearl can be the perfect piece for any bride on her wedding day.  This most precious and revered gem has long been regarded in every culture as one of the rarest, most valued, and symbolic of all gemstones.  And no wonder!  The pearl is unique among all gems due to its organic nature, being the only gemstone that is created inside a living creature, a mollusk.  Therefore, it should be no surprise that the pearl, praised throughout the ages by the great poets of every culture for its unparalleled beauty, cool luster, and exquisite shape, has been the gem of choice for generations of brides on their wedding day.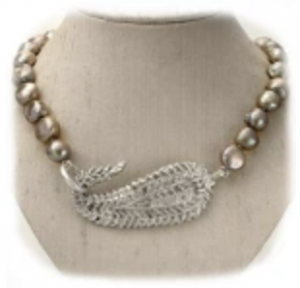 "And Krishna brought forth pearls from the depths of the sea
to give to his daughter on her wedding day."
-The Rig Veda, Ancient Hindu Book, c. 1000 BC
Among the many cultures which celebrate the tradition of wearing pearls as wedding jewelry, the Hindu culture traces its pearl lore back to its holy book, the Rig Veda.  This ancient text chronicles the discovery of the first pearl, describing how the god Krishna descended into the sea, unearthed the pearls, and joyfully presented them to his daughter on her wedding day.  What a magnificent and queenly gift!  A perfect illustration of the pearl's peerless value and unmatched beauty.  Perhaps the first record of pearls and weddings, this Hindu text marks the beginning of the age-old belief that pearls are jewelry befitting a bride.
Not just India but many cultures all over the world from Greece to Rome to Polynesia possess a rich history of associating pearls with purity and love.  In Polynesian pearl lore, there is a legend that when the god of peace and fertility wanted to show his affection to Princess Boro Boro he offered her a single perfect pearl as a token of his love.  Pearls were considered in much the same way by the Romans who believed that pearls were symbols of love, which would help ensure marital bliss.  To the Greeks, pearls were considered the "wedding gem," a stone unmatched in beauty.  What a perfect and meaningful gem to grace your neck on one of the happiest days of your life!
For today's bride, there is a much more diverse selection of pearl bridal jewelry with pearls available in a variety of shapes and colors including white, champagne, pink, blue, brown, and gold.  Such a large variety of pearls allows each bride to take this traditional gem and personalize it. Pearl bridesmaid jewelry can also make a lovely and memorable gift for your bridesmaids or even the mother of the bride.  On your wedding day, feature elegant, lustrous pearls at your neck, encircling your wrists, or even dangling from your ears for an unforgettably timeless look evoking ancient traditions of love as you walk towards your future.