Mother of the bride, and mother of groom; the importance they have in our life is immeasurable.  A role that neither distance nor time can lessen.  After years spent nurturing and providing advice, it can be a difficult and sentimental experience for a mother to see their child completely nurtured, and advised, by another.
On your wedding day, it is important to acknowledge and honor these bittersweet feelings your mother may be experiencing and to graciously thank the mother of your partner for raising such a wonderful human being as your new spouse.  Let them know that though you are starting a family of your own, they are not being replaced or forgotten, and will always be appreciated for what they have done for you.  How beautiful that through their unconditional love, you in turn have found a love of your own!
For the support, they've provided throughout your lives, and throughout the preparation of your wedding, thank them with the gift of a unique piece of jewelry that can be forever associated with this important day.  In every photograph from your wedding day, expressions of love and joy will flow freely.  Express your love for the mothers in your life with a beautiful token that will show forever in these photographs!
The following are some thoughtful wedding gift ideas to honor the mothers:
A sterling silver lace printed necklace (featured here with rose quartz) will forever remind your mothers of the importance of their love in your life.  This piece will also fill them with a new love; knowing that you are truly loved by another, as the beautiful creation they raised ~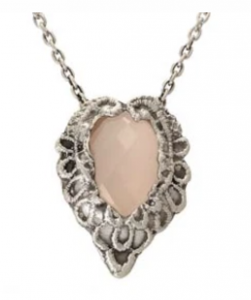 If the mother of the bride's, or mother of the groom's, wedding wear has a neckline that won't support a necklace, consider a bracelet as a token of appreciation!  This sterling silver flower and pearl bracelet shows your appreciation of  their love that has supported you to bloom and grow ~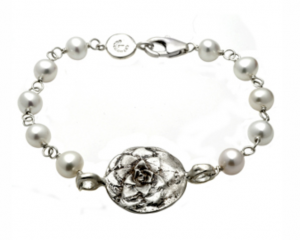 You may even choose to personalize a gift of gratitude for the mother of the bride and mother of the groom with customization such as hand-stamped initials, names, and/or the date of your wedding!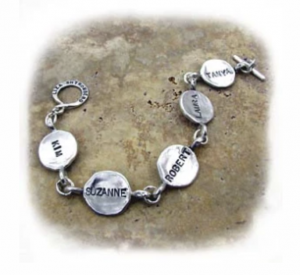 Follow @lizashtrombergjewelry on Instagram!