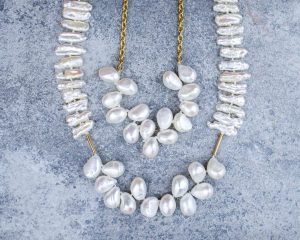 Staycationing or vacationing this summer? Either way, we are always excited to wear jewelry with pride and joy whether we are sipping mimosas with friends indoors or watching the sunset at the beach with a loved one. Most importantly, we are even more excited to wear the hottest gemstones for the month of June!
Pearls, officially the world's oldest gem, are one of the most magnificent gemstones because of their organic origin. Because they're the world's oldest gem it's difficult to know who originally discovered the gem, but it's believed it was first discovered by people searching for food.
They're the only gemstones to come from a living creature and they take at least six months to form. The shine, beauty, and natural formation of pearls made the gemstone a powerful gift for many historical places from the Chinese culture to the Arab cultures.
There are four main types of pearls: Freshwater, Akoya, Tahitian, and South Sea pearls. And yes, they ALL make beautiful jewelry! Aside from pearls designed in rings and necklaces, did you know that wearing pearls as jewelry can help acquire some of their natural properties?
Aside from their long history and fascinating formation pearls have natural healing properties. Pearls are known to access the wisdom in new moon rituals, full moon rituals, and manifestation work when you're calling for positivity in your life.
Speaking of moon rituals, this brings us to our next June birthstone…
Because the moon is an introverted symbol the moonstone is a great gemstone that can guide us to connecting with our inner path. Sounds cool right? Not only are moonstones known to connect with our intuition but it helps restore balance while releasing stress.
The glow of this stone reminds us of the soft feminine energy and mysticism we all love to connect with in times of imagination and creativity. Moonstones come in many colorful varieties such as white, peach, yellow, rainbow, gray, and cat's eye (or blue).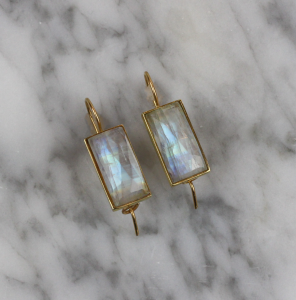 You may get lost in the beauty of this milky and colorful stone (don't worry, it happens to us all the time at LSJ!). But this stone is an ultimate showstopper when worn!
The soft vibrancy of moonstone is both powerful and subtle enough to be worn every day with any outfit – whether it's a casual tee and jeans or a flowing summer dress.
It's safe to even say you may feel a bit magical when you wear a moonstone necklace 😀