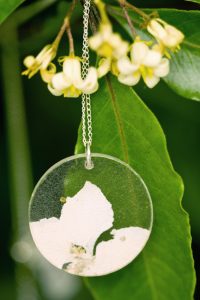 In the past, the concept of being "style-conscious" meant being conscious of one's own style, not necessarily being conscious as an individual or member of the human condition.
But in a world where we are learning to make the most of the resources we've got, on a day-to-day basis, that individual and collective consciousness has crept into every aspect of our lives.
Even fashion.
There was a time when "eco-friendly" and "organic" were dirty words in the style world.   In fact, being "green" usually meant having to give up any and all high-fashion credibility.
Thankfully, that was then.  And this is now.
We live in a world where hybrids are hip, local is the only way to grow, minerals are the new makeup, and recycling is exacted without a second thought.  Consumers have never been so concerned about where the clothing and accessories they wear have originated.  Sweatshops are a faux pas.  Excess waste is frowned upon.
It is possible that going "green" is even more difficult for the jewelry industry.  But with a little bit of effort and a lot of ingenuity, it is possible.
From ethically mined stones to recycled metal to discovering entirely new materials to use, designers are discovering ways to ensure that you don't have to sacrifice the bling to spare your conscience.  Let's also not forget that handmade and locally-made jewelry is more humane than anything mass-produced.
The necklace above, for instance, is made from two layers of pre-consumer recycled eco resin encasing a purely organic material.  Beauty and eco-consciousness?  It is possible after all.
Whoever would have guessed these two ideals could co-exist in such lovely harmony?
As far as the part of the consumer, keep in mind that sterling silver in jewelry is an inherently recycled material.  Gold can be green if purchased informatively.  And of course, any recycled gold is green. Some stones are mined ethically.  Some are not.  Do your research.  And don't be afraid to ask questions.
Below are some useful links to help you on your ethically stylish journey.  The first step is taking the time to care.  The second is to become educated on what you're buying and wearing.
And remember, you don't have to sacrifice the jewelry or fashions you love to be "green."  The key in everything is to find a healthy balance.  Remember that and you'll always be a beautiful asset to your environment…
–http://www.conflictfreediamonds.org/
-A great resource for all things green: The All Shades of Green Blog: http://allshadesofgreenblog.blogspot.com/
-And don't forget to read our Eco-Friendly Bridal and Wedding Jewelry post!